Site Of the Moment:
The Mom Maven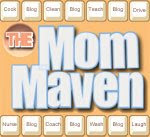 parenting/teens/reviews/giveaways/family entertainment
Rank
Site
In
Out

51

Mommy and We

265
191

Two mommies bringing reviews, giveaways, advice and more to fellow mommies in need of a break from their busy day!

52

Nickel-and-Diming with Nikki

263
394

I blog about coupons, deals, freebies and more! I love to review products and host giveaways on my site as well!

53

Misadventures of a First Time Mom

263
260

A personal blog about my daily life being a first time mom. I also write product reviews, share parenting tips, post coutons, host giveaways, and much more.

54

Kelsey Apley

256
245

Full of Reviews and Giveaways, plus Freebies, Deals, blogging tips and more!

55

As Mom Sees It

252
457

Product reviews, giveaways, and stories from my life as a mom of a pre-toddler and a pre-teen
Rank
Site
In
Out

56

Mom 'N Daughter Savings

246
138
Family Friendly, parenting, reviews/giveaways, recipes, pets, addiction

57

Mom's Misc Adventures

243
228

A Christian blogging mom who loves to share useful information and to have fun. I love to do reviews and giveaways.

58

Fabulous Finds by NovGirlxo

236
453

My blog is geared toward families with younger children looking to shop smart and save money.

59

Mary's Cup of Tea

219
417

A little of everything kinda blog. I do reviews and contests, blog about my life, news events, health issues, life in general, post contests on other blogger's sites, pass along any kind of info

60

Measuring Flower

215
706

A blog for frugal moms who love their families!
Rank
Site
In
Out

61

Bacon Time with the Hungry Hungry Hypo

213
177
Give Aways, Crafts, Recipes, Fashion, Link Parties, and more

62

All Ruby Cakes

212
252

All Ruby Cakes is a blog ran by two 20-something sisters, and is a sweet spot to find great shopping deals, coupons, product reviews, and giveaways.


63

The Magical Life of Mama's

211
200

Magical Life of Mama's is a place for giveaways and reviews for the latest and greatest products for mama's and babies!

64

Dirty Truth Reviews

210
152

Product Reviews & Giveaways

65

With a Side of Thriftiness

199
155

We all need a cents of thriftiness in our busy lives! Stop on by for: Daily Deals, Hot Coupons, GiveAways, Reviews, PINspiration and MORE!

66

Mom Always Finds Out

198
147

Family-friendly product reviews and giveaways, eco-friendly living, special deals/offers and coupons, plus a little bit of everything Mom Always Finds Out.

67

My Chaotic Ramblings

197
223
My Chaotic Ramblings is a site filled with reviews and giveaways. Looking to find a new book to read? We have book reviews in all genre's. Wanting to know a mom's thoughts on the latest video game?

68

Running After Raina

196
216
Reviews, Giveaways, and More!

69

Savings In Seconds

190
199
I help you save money in seconds. Watch it add up to big bucks!

70

Thrifty Mom's Reviews and More

188
175

I am an up and coming mom/review blogger!
Rank
Site
In
Out

71

7 on a Shoestring

180
268

Stay at home mom of 5 living vicariously through the internet! PR friendly blogger with reviews, giveaways, and great deals!

72

Moms Own Words

174
276

Moms Own Words content consists of book reviews, product reviews, giveaways, recipes and articles for women and moms on home and family,places for kids in New England, women's health and fitness, onl

73

Shanda's Sweeps and Freebies

166
223

I submit Sweepstakes, Free Stuff and Samples, I also do product Reviews and Giveaways.

74

couponfreetuff

161
222
savings, deals, coupons, reviews and giveaways

75

Five Dollar Shake

161
221
Coupons, product & movie reviews. Giveaways and more...
Visit our other Directories:
Affiliate Disclaimer
Page:
1
2
[3]
4
5
6
7
8
9
10
11
12
13
14
Last Update: Thu, 04.27.17 3:17
Next Update: Thu, 04.27.17 3:47
Next Reset: never
Sites: 334