Site Of the Moment:
Mommy and We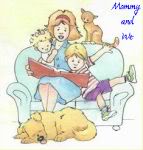 Two mommies bringing reviews, giveaways, advice and more to fellow mommies in need of a break from their busy day!
Rank
Site
In
Out

26

Let's Book It

492
348

I read a variety of genres by well known, debut and indie authors; do reviews, interviews and giveaways. And I try to make it fun!

27

Pigtails and Mohawks

478
278

Reviews, giveaways, coupons, deals, and more!

28

Women-Prenuer Galore

469
358

I review and do giveaways for all types of products mainly for women, and for eco natural and organic products whenever possible.
welcome to all.
I also do some guest posts on some diversified tips, c

29

Books R Us

466
527

Welcome to Books R Us, a place for reviews, contests and other interesting tidbits.Here you can find posts on a variety of topics including books,software, food and everyday living.

30

Mama Chocolate

451
418

Blogging about children, chores, and chocolate! Regular reviews, giveaways, and recipes! Breastfeeding, babywearing, cloth diapering mama!
Rank
Site
In
Out

31

Musings of a Modern Mom

439
732

I write about life and share my experiences. Blog resources, reviews and giveaways.


32

Kaeli's Kiwis

431
223
Family friendly review and giveaways as well as the happenings of the Hines home.

33

Momma Young at Home

417
447

Parenting, Recipes, Reviews and Giveaways

34

The Bewitchin' Kitchen

415
604

The Bewitchin' Kitchen is a great place to read the latest reviews and enter some great giveaways. You will also find some recipes, household tips and tricks and everyday tales of life adventures.

35

Musings From a Stay At Home Mom

411
566

Life as a stay at home, Christian homeschooling mom to 4 young children. Sharing family life, couponing, frugal tips, recipes, and product reviews and giveaways too.
Rank
Site
In
Out

36

Hardcover Feedback

410
228

Reviews, Giveaways, and More!

37

Frugal Family Tree

406
735

We are a family team of mom bloggers who share parenting stories about our adventures in life along with reviews and giveaways. We post at least 2 giveaways a week. Once a month we have a themed giveaway event filled with great giveaways.

38

Living Life: Hannah Style!

389
258
A blog about me & what goes on in my life, but in addition to talking about myself all the time, I also do reviews & giveaways!
:)

39

Once Upon A Review

387
406

A giveaway blog run by a young University student. This blog has a little something for everybody!

40

Tidbits From A Mom

382
174

I write product and book reviews, host giveaways, and blog about my personal life.
Rank
Site
In
Out

41

Mom's Got a Brand New Bag

379
350

Bags4Bubbles is an avid authentic, designer handbag enthusiast and mommy to two adorable girls - referred to as Cupcake and Peanut on the blog. In addition to handbags, she also blogs about baby related issues, beauty items, and life events of being a mom

42

Eighty MPH Mom

373
588

Eighty MPH Mom is a 2-year old popular, family friendly site with steady product reviews and giveaways!

43

Scrink, Bring Me Up

366
288

For all your entertainment needs, the latest music, the latest news updated daily. With tidbits of geek talk and green talk!

44

LadyD Books

361
244

LadyD Books gives an honest review of
children's picture books, juvenile fiction and chapter books. Giveaways are hosted here as well. Sometimes I post on music and other times about gardening, sharing recipes. I especially love photography with my Nikon

45

Top Social Giveaways

340
302

Twitter, Facebook and Gadget Giveaways.
Rank
Site
In
Out

46

Dashing for Deals

319
318

Shopping, Reviews and Giveaways, Couponing, Chit-chat

47

Mums diary of three wonderful children xxx

310
213
Its a diary of our lives and reviews of products we have tried and competitions we do

48

Totally Temberton

298
202

Totally Temberton is a blog about frugal living and homeschooling. I spread the word about coupons, freebies, giveaways, sales, etc. I post numerous reviews for The Old Schoolhouse magazine (educati

49

Mama to 4 Blessings

287
445

parenting,homeschooling, kid friendly activities, product reviews and giveaways.

50

Mommy Living the Life of Riley!

286
700
Mommy Living the Life of Riley is a family friendly product review and giveaway blog from a stay-at-home momís perspective. Every product review and giveaway hosted here portrays an honest and thorou
Visit our other Directories:
Affiliate Disclaimer
Page:
1
[2]
3
4
5
6
7
8
9
10
11
12
13
14
Last Update: Thu, 04.27.17 3:17
Next Update: Thu, 04.27.17 3:47
Next Reset: never
Sites: 334